An extraordinary
health care app
The app is your organization's partner creating
Communication through Health Promotion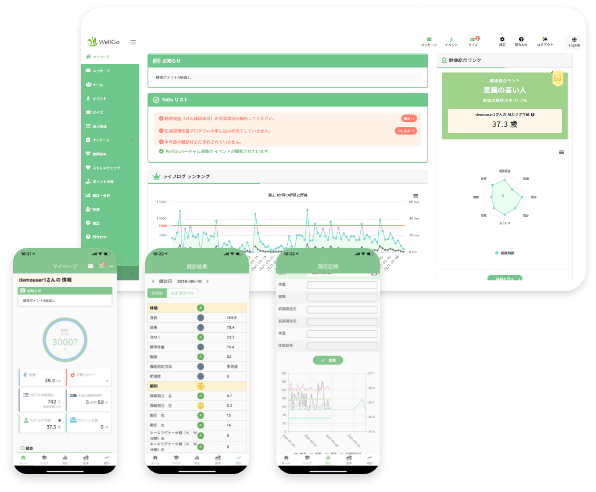 WellGo performance
* The data shows records as of May 2021
Our clients' voice
Nomura Securities Co., Ltd.

Shinji Momonoe,Managing director of Human Resources Dept.

We make use of WellGo to conduct a yearly health related event called "NOMURA Health Challenge" on department level.
One branch found that many employees have problems of "lack of exercise," "high smoking rate," and "bad drinking habit."
Therefore, they formed three project groups: (1) exercise, (2) smoking, and (3) drinking alcohol, each worked on activities to solve health problems, and shared their experiences on WellGo. As they worked on this project with a sense of unity throughout the branch,they could enhanced the levels of communication among employees and their health awarenesses. We will further utilize WellGo to promote health management.

Nomura Securities Health Insurance Association

Toshiro Harima,Managing Executive Director

Since last year, along with the Ministry of Labor's "Collaboration Health Guidelines", we integrated the data of many companies and that of health insurance association on WellGo in order to manage the health conditions of insured employees and their dependents as a population approach tool.
In this year, we will offer unique incentives for employees on WellGo such as resort facilities, Amazon gift cards, nd etc.
We keep utilizing WellGo as an important communication tool for population approaches, high risk approaches, and various health businesses.

Doctor Trust Co., Ltd.

Shogi Sugii,Managing Director

Katsuya Ishikawa,IT Dept.

We are the leading company for staffing service of industrial physicians.
We co-invented stress check function on WellGo and prepared 80 questions to provide highly accurate information about individual and group stress levels. This function has received high reputations from clients.
We would like to further cooperate with WellGo to expand health management and industrial health.
Which features do you care about?
Employees

HRs

Industrial physicians/Nurses

Health insurance unions
Initial introduction phase 1-2 months
Health management platform
All health-related information of employees is centrally managed by WellGo,
creating plenty of time to work on health management
Supporters' voice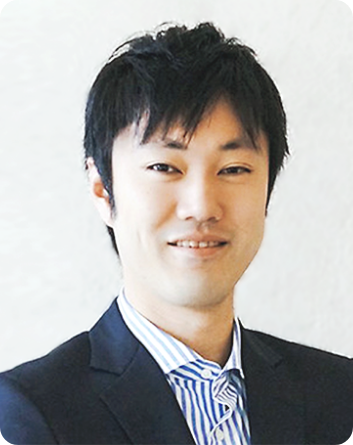 Yoshiki Ishikawa, Expert of Preventive Medicine
Co-inventor of WellGo's vision
What I am planning with WellGo is future "asset formation". In order to live well (being well-being) through 100 years of life, we need not only money but also new types of asset such as health and community.
I would like to support the creation of new assets by leveraging WellGo's technology with my expertise, the preventive medicine and behavioral science.
Yoshiki Ishikawa, Expert of Preventive Medicine

"Career"
Born in Hiroshima Prefecture, Japan 1981. Graduated from the University of Tokyo Faculty of Health Sciences and Harvard University T.H. Chan School of Public Health, obtained a doctorate (medical) from Jichi Medical University in Japan. Conduct interdisciplinary research with companies and universities under the theme of "What is Well-being?" Specialize in preventive medicine, behavioral sciences, and computational creativity.
Our philosophy
Now people live one hundred years.
WellGo strongly supportshealthy lifespan,
the asset of the new era.
WellGo's mission is to utilize technology to sow future seeds that will shine in the era of 100 year lifespan.
We aim to foster health literacy, which is the foundation of "Well-being: happiness".
Now people live one hundred years.
The time has come to form intangible assets such as family,
friends, and health, not only tangible assets such as savings and houses.
WellGo supports it at our best.